Messcherschmitt Bf110 G9+AC
Aircrew
Major Walter EHLE (Gruppenkommandeur Pilot)
Unknown (Bordfunker)
Unknown (Bordschutze)
Aircraft
Messerschmitt Bf110 night-fighter (ID G9+AC).
The original Bf110 was designed as a two seat Zestörer (destroyer) fighter for escorting bombers, but its limitations were exposed in the Battle of Britain. When converted to a three seat night fighter, comprising Pilot, Bordfunker (Radio/radar operator) and Bordschutze (Air gunner), it became a formidable opponent.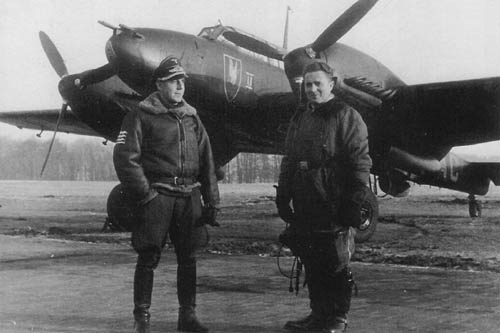 Hauptmann Walter Ehle and his Bordfunker, Hans Weng, pictured in front of Messerschmitt Bf110 G9+AC at Sint Truiden (St. Trond) airbase
This photograph was taken before Ehle was promoted to Major, since his stripes show the rank of Hauptmann: a bar with three wings above. The emblem on the fuselage is NJG1's Englandblitz symbol: an eagle holding a lightning bolt striking England. The Roman numeral II beside the symbol shows the fighter is in II Gruppe of NJG1.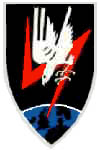 Squadron
II./NJG1 : at the time of the 26 May 1943 raid, Walter Ehle was the Gruppenkommandeur of Grüppe II, Nachtjagdgeschwader 1.
(See Glossary for an explanation of German words and abbreviations)